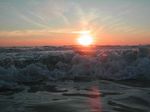 I'm on the beach for a winter holiday with my folks and the dogs so I'll be posting photos. Here's the first few: sunset, talula's first time to see the ocean, black sand. Taking Miss T out on the beach for her first experience of the ocean was a blast. She loved it and we had a so much fun running around. She even went in the water a wee bit. She is the most fantastical dog ever and truly is my best friend… and quite the snuggle bunny too. In fact, she's curled up next to me now. Sweet.

Also of note, this will be the first post to use "Talula" as a Technorati tag! Now isn't that special?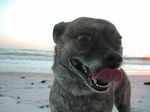 This blog's owner has not provided a valid email address yet.