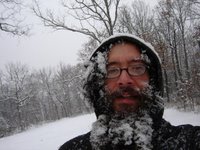 What a great day! Took a long walk in the four inches of snow that fell today then made a big mug of hot chocolate.

The birds were out and very active today so I took lots of photos: Cardinal, White Breasted Nuthatch, Black Capped Chickadee, Downy Woodpecker, and Tufted Titmouse were all there for the party. You can see more photos over at my Flickr page.

This blog's owner has not provided a valid email address yet.