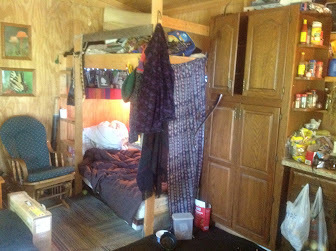 Big things are coming to my little cabin! After four years in the cabin with a guest sleeping loft rarely used I've decided to make a few changes. I am taking out the loft and my bed beneath it and replacing it with a wall of shelves, desk and futon. The poorly organized mess in the loft will be getting neatly organized and should really open up the space. I'll probably do a bit of painting, I've never liked the fake wood exterior of the shelving unit that holds all my clothing. Will be moving my small flatscreen, MacMini, speakers and AppleTV into the top of that unit since those cloths will be organized on the new shelves. My futon is directly across from the unit so it makes for perfect viewing.
What a mess, I can't wait to get it done! Pictures and an update in the next day or so.
This blog's owner has not provided a valid email address yet.