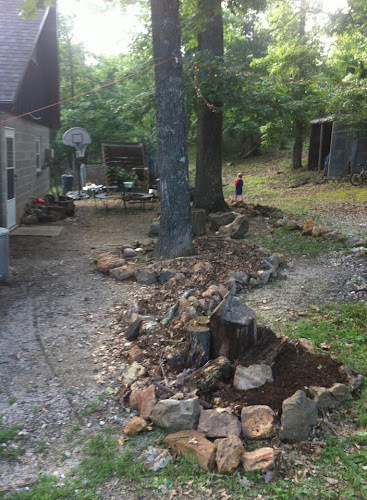 Hugelculture herb spiral in
construction. Leaves and wood used
as organic filler, topped with soil
and compost.
Let me start by saying that Permaculture is not a new concept for Kaleesha and she's been putting various elements of it into practice for several years. What is new though is having me around and my thoughts on how to go about things.
Probably the biggest change is going to be a change in goat management which is both a permaculture driven change as well as a very practical need. Essentially the goat fencing was never quite finished and with a bit of effort they were able to free-range which is not a good thing with a road nearby. Nor is it a good thing if one wants to grow berry and fruit trees and bushes or any kind of flower garden. If you dont already know, goats eat practically every kind of growing thing so growing a garden or food forest is difficult, probably impossible if goats have open access to growing areas.
Last week we finished the fencing and the goats are mostly contained. They will do their best to get past it and will find a few week points (already have!) so we'll have to get out and do a bit of troubleshooting. But as of now, it is a big improvement and they are behind the fencing most of the time which means we are now free begin landscaping areas around the house which had previously been left as grass or gravel.
After the goats the priority has been to improve the aesthetics of the north, driveway side of the house is poorly defined with two doors that confuse visitors about the actual entrance. The first door goes to the laundry room is more a utility entry but is usually the first door seen by visitors. The real entryway is not marked in anyway. That entire face of the house was used as storage with a heating unit, doors, windows and other items leaned against the wall. The rocks of the driveway were steadily migrating down into the gravel mulch that served as a yard. Most of this area is heavily shaded by the house and two large trees. The northeast side of the yard has a bit of grass and gets a good bit of sunlight.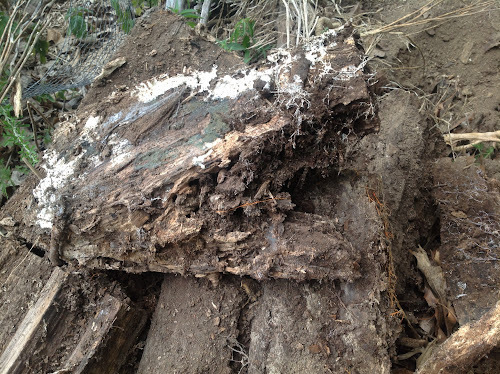 Well rotted log from my hugelculture beds. The logs
and soil are full of fungi and micro organisms.
We started by getting all the items along the house moved to the shed. Once we cleared the space we wanted to bring some life and usefulness to the area. We built a hugelculture shade bed against the house and to the west side of the main entrance to the house. The bed has been planted with a mix of shade tolerant plants such as ferns, hostas and native columbine. A smaller bed on the other side of the door will also be built and planted with shade plants. The concrete pad in front of the door will also be getting some attention. Currently it gathers a good bit of small gravel which makes its way into the house. To help draw attention to this door as the primary entrance and to reduce the amount of gravel coming inside we are repurposing some concrete paver stones mixed with various stones found around the property which are being laid in as an extension of the pad forming a sort of patio.
Much of the focus thus far is working on moving extra plants over from my efforts at the lake. I've gotten some of the kitchen herbs and Missouri natives moved over with many more to go. My folks will be taking over my cabin and have no interest in gardening so I'm also bringing over soil from the two year old hugelculture bed. The logs are rotting up nicely and the resulting soil, previously enriched with manured straw from the chicken coop, is fantastic. Thus far the herb spiral and hugelculture beds around the mature trees in the yard have been planted with Oregano, Skullcap, Lavendar, Garlic Chives, and Purple Coneflowers.
This fall I'll move the serviceberry bushes, blackberries, and raspberries and possibly a few others. In the longterm I'd like to put the hill that the house is built on to use. It is a south-facing hill and an excellent opportunity for water harvesting with swales. Another longterm project is improving the goat forage. Currently they forage a diverse area with a fairly good mix of food but it could be improved. Yet another long term project that we'll get started in the spring of next year we will be several food forests. We'll obtain low-cost nut trees from the Missouri Department of Conservation as well as a few fruit trees from other sources.
This is a great site with fantastic potential and I look forward to becoming a part of it.
This blog's owner has not provided a valid email address yet.