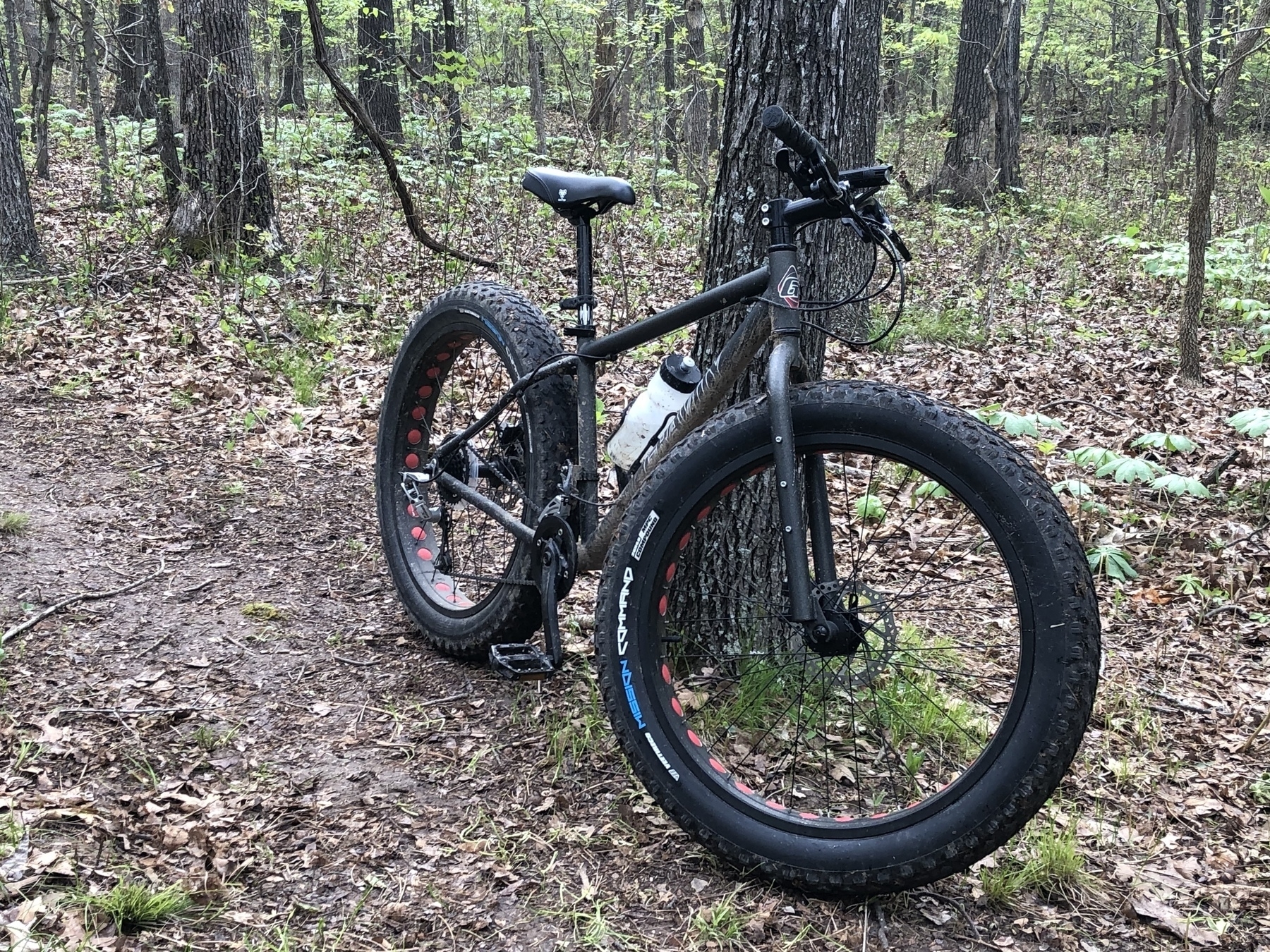 In my last post I ended my mentioning that I'd ordered a new non-powered fat bike which arrived a week ago. I'm not at all sure what's up with the name of this bike, the Bullseye Monster made by Gravity. It's an entry-level bike, so nothing too fancy but a step or two up from a standard box store bike. Most bikes of this size and form weigh in between 30 to 38lbs, the Bullseye Monster weighs in at about 36lbs. So, it's toward the heavier end but compared to the 75 lb Rover it feels impossibly light as I've gotten used to the heavy cruiser weight of the e-bike. I don't plan to be doing anything extreme with this bike and really just wanted a well built, solid and dependable bike for riding around on the new trails. I've been riding it for just over a week, here are some initial thoughts.

Like many bikes sold over the internet it arrives mostly assembled. Like the Rover, I had to attach the handlebar to the stem, attach the front wheel to the forks, attach the pedals, tweak the rear derailleur and brakes then air up the tires.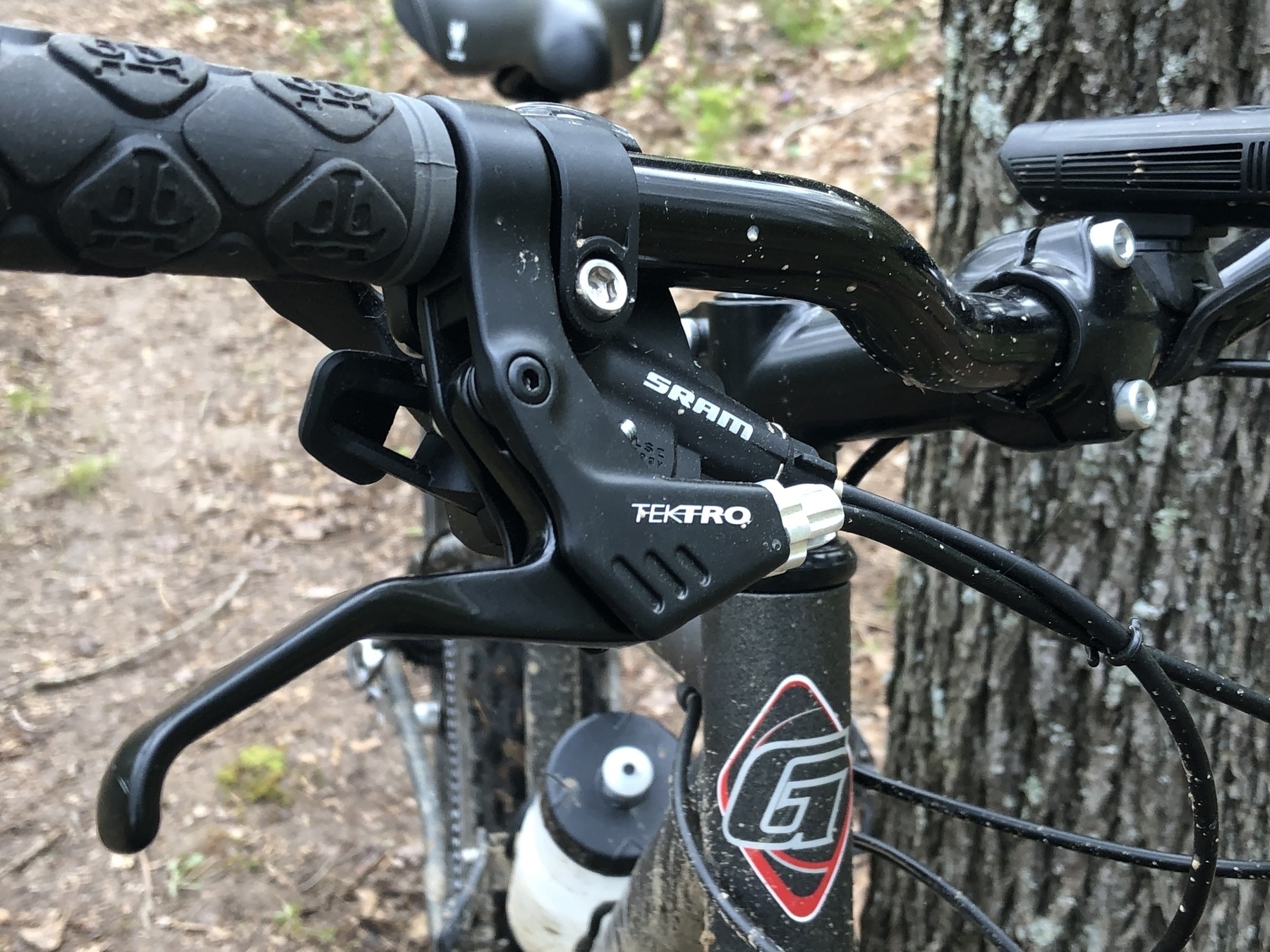 First, I have to say that it's been 20 years since I spent time with a regular, non-powered bike. I worked in a bike shop for two or so years and it's not taken long for me to remember some of the details of a well made bike, both in terms of how it feels to ride as well as the various aspects of quality differences to be found in the frame and components. Right off, the components such as the shifters, derailleurs, brakes, etc are entry to mid-level parts that perform fairly well. These are not as light as more expensive components but they are still fairly well made and they do what they are supposed to do. So, functional but heavier.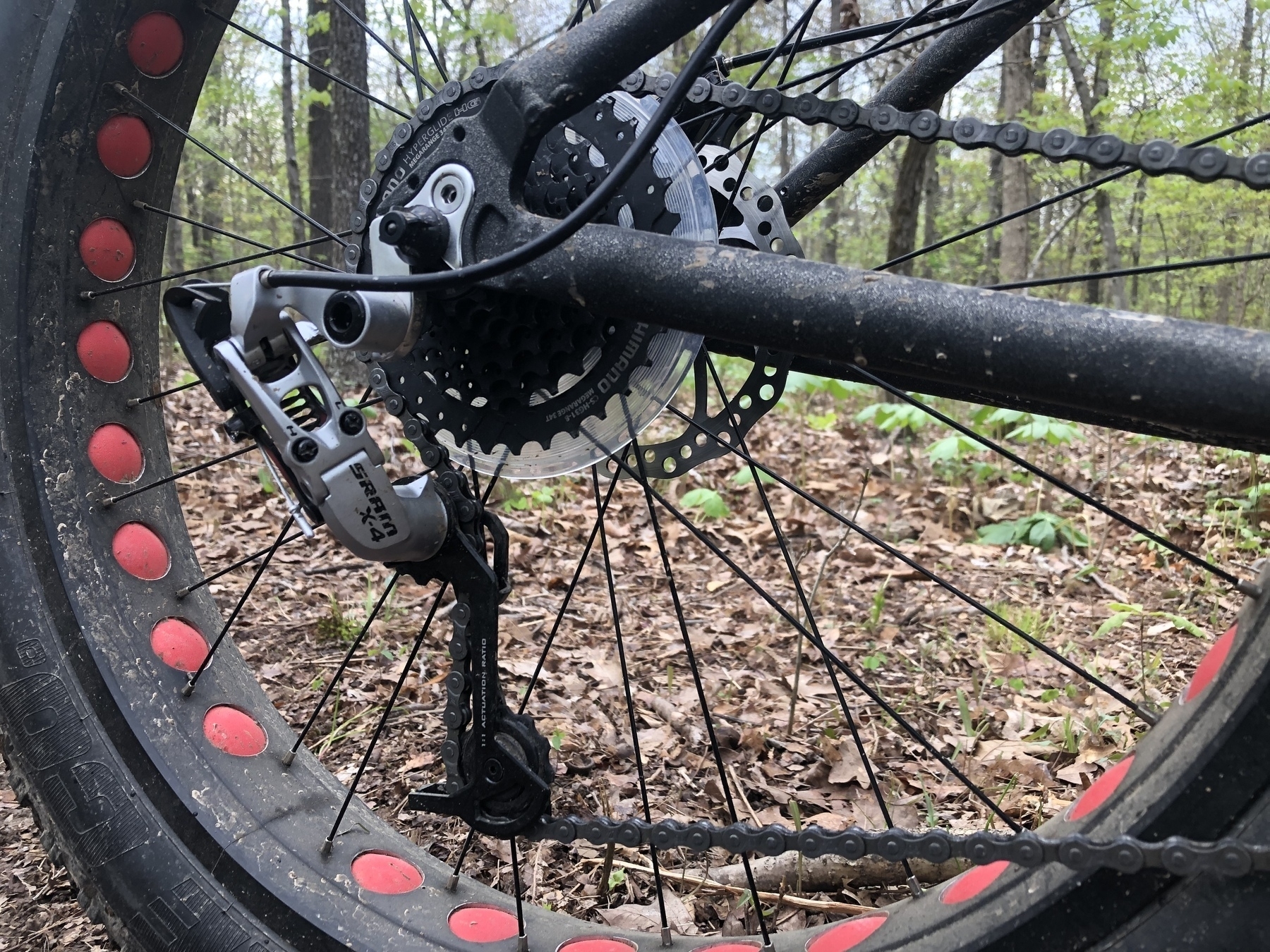 A few basic specs. This is a fat bike so, 4" wide tires, 26" diameter wheels. The drivetrain is 2x8, so, 16 gears (11-34T on the rear cog, 22/32T on the front chain rings) which seems to cover my needs very well. I've had no problems going up short but steep hills at about 14 to 18% grades. On the kind of terrain I'll be riding I don't need high gears for high-speed riding though it is geared well enough that I'd have no problem maintaining 18 to 22 mph were I on paved downhill. I think these bikes are mostly to be used off road or on gravel roads of various grades and at speeds ranging from 3mph and up and in these scenarios, this gearing is fine.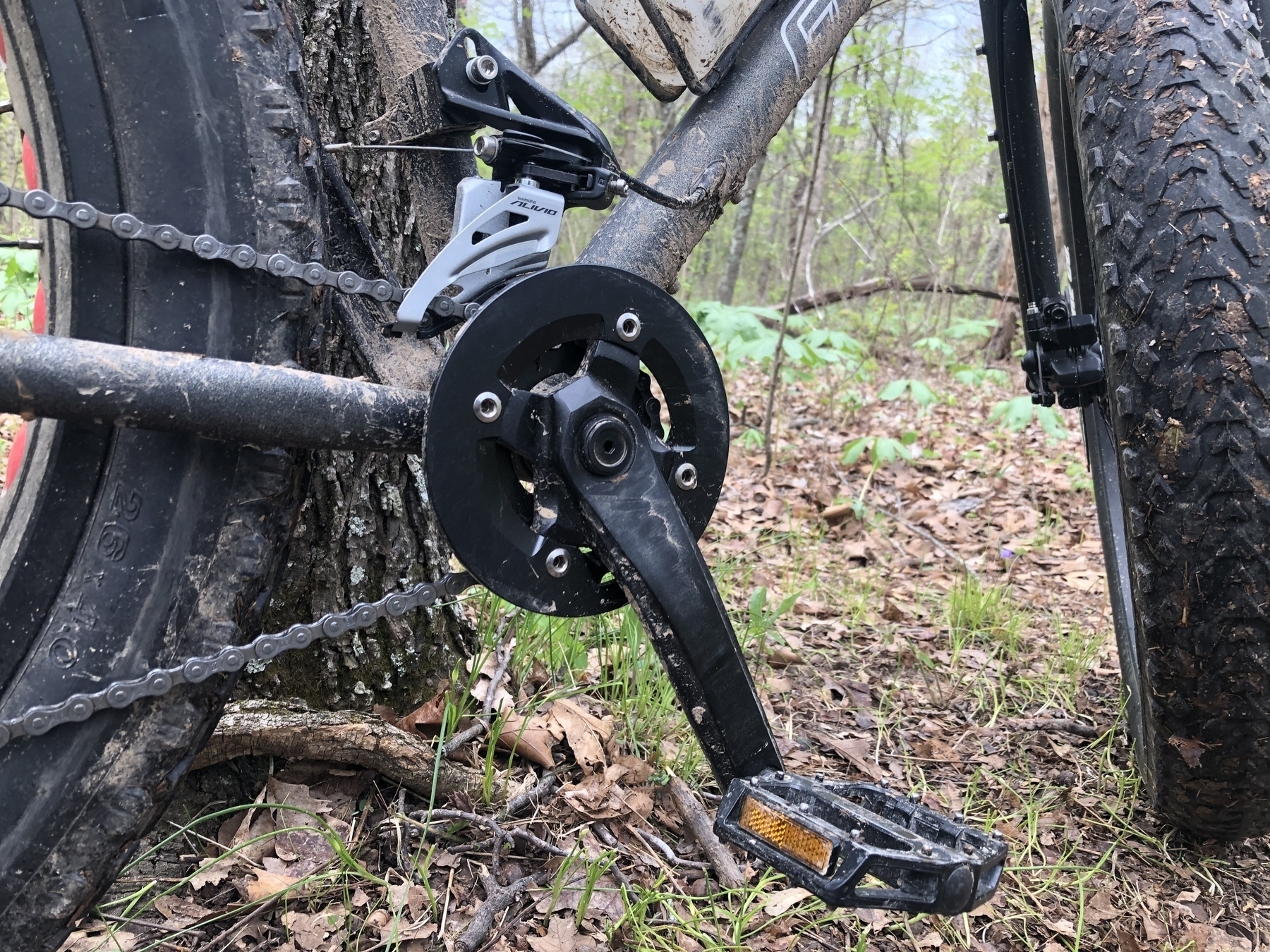 The Mission Command tires by Vee seem to be designed for average conditions which is to say, a bit of everything but nothing too extreme. They're not reported to be the best tires for snow, I'm not sure about sand. On pavement they have a good bit of self-steer at the current tire pressure of 15psi. I suspect that if I needed to do a lot of road riding I could pump them up to 30psi and much of that self-steer would go away. They do fairly well on gravel and off road which are what I will primarily be using the bike for. Thus far, they are fine on my trails which consist of hard pack, semi-loose dirt and mud. I've been riding through some pretty rough terrain on my new trails which still include a few thorns, branches, small, pokey tree stubs, etc. No punctures yet!
This bike has no suspension! It's an aluminum frame on a hard chromoly fork but I'm riding with the tires at about 15psi and it's not too rough on our rock road and the trails. In the 10 days I've ridden the Gravity I've gotten in about 62 miles, average of just about 5.6 miles per day and less than an hour of riding per day. I expect to continue with my trail building for another week or so and after that will bump up to 2 to 3 hours of riding every day again. Though at only 5 miles per hour on the trails I'll only be getting in 10 to 15 miles a day. I'm fine with that as I'm loving the experience of riding the new trail and really I think of it as time in the saddle more than miles ridden. If the terrain dictates that riding is slower that's not something I'll worry about.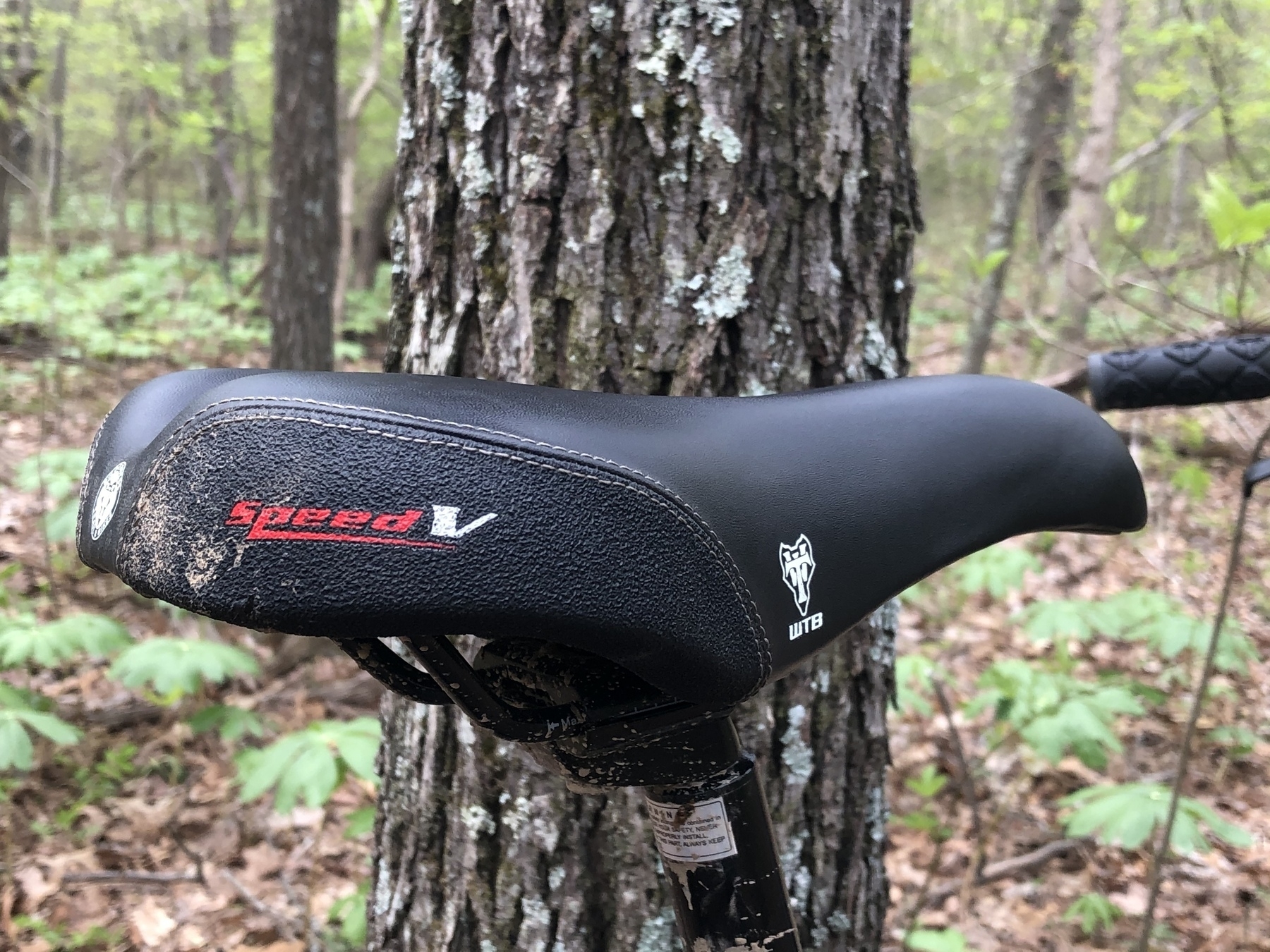 All in all, the feel of the new bike on the trail is fast, nimble and fun, I love how it handles. I'd been a bit concerned about how my knee would feel on the steeper climbs but that's been no problem at all. I drop down to the granny gear and spin right up. No doubt, it's work and I'm breathing hard at the top but I have no problem getting up. Getting to the top of the steepest climb which averages about 17% grade and is steepest at about 23% (according to Ride with GPS) has my heart rate at about 165bpm.

There were only two negatives worth mentioning. First, the pedals that come with the bike are too small and my feet slipped off them a few times. After a couple days I switched them with the Rover's larger, sturdier Wellgo pedals. Much better. Also, the head tube is said to be limiting as to fork upgrades because it is not tapered. In my case, I'm not concerned as I don't expect to be adding a suspension fork, but it's worth mentioning. It's only been a few days so I'll likely report back in another couple of months but I don't expect there to be any problems.

I have no intention of making any upgrades anytime soon. As things wear out I'd likely consider replacing the stock parts with improved components but I don't feel any need to do that until they wear out.

I'd have no problem recommending this bike for anyone looking to get their first fat bike.

Rides over the past two weeks.

4/12 4.00 4/13 4.00 4/14 4.00 4/15 4.00 4/16 4.00 4/17 4.00 4/18 5.50 4/19 4.00 4/20 4.00 4/21 4.00 4/22 6.20 4/23 8.00 4/24 4.50 4/25 7.20 4/26 4.00 4/27 11.1
This blog's owner has not provided a valid email address yet.